UK 'thermal battery' maker Sunamp signs US$70m China sales agreement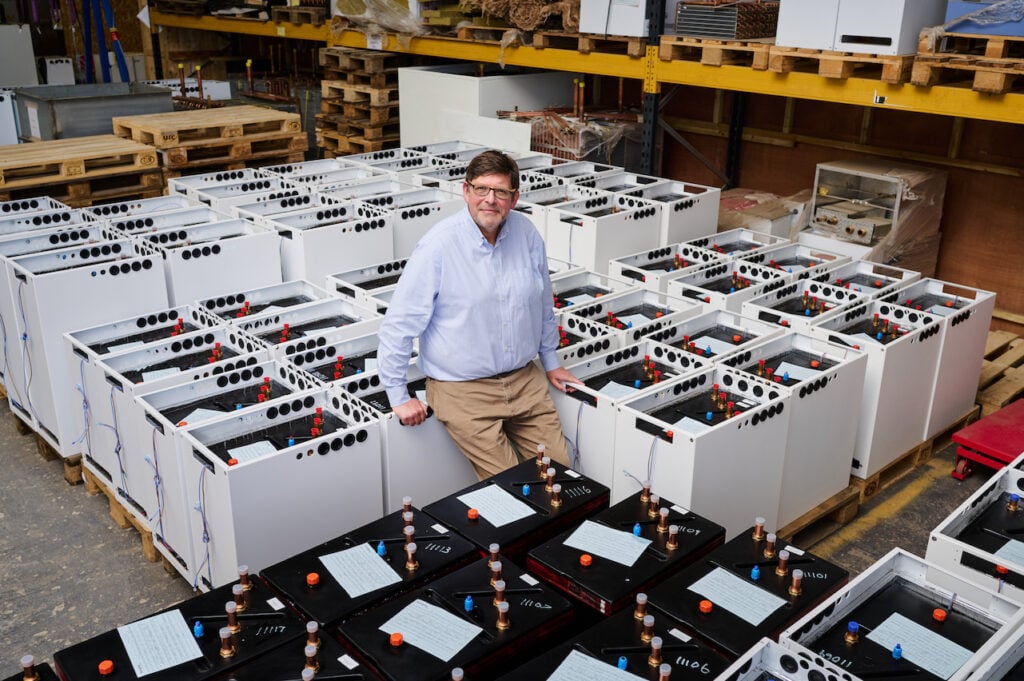 Sunamp's Andrew Bissell surrounded by thermal battery modules at the company's manufacturing facility in East Lothian, Scotland. Image: Sunamp.


Sunamp, a Scotland-headquartered manufacturer of a thermal energy storage technology, has just signed an agreement with a distributor to target nearly US$70 million of sales in China and open a factory in the Asian country.

The company's proprietary technology is based on a phase change material (PCM), branded 'Plentigrade', which delivers heating or cooling as needed. The non-toxic PCM was created in collaboration with the nearby University of Edinburgh. It's designed to be several times more efficient at storing heat than water and can be used to replace or complement conventional equipment like boilers in homes and businesses.

It can therefore lower the carbon footprint and energy consumption associated with heating and cooling, while Sunamp has also touted it as a perfect partner for rooftop solar PV and other distributed energy resources (DER).

Sunamp told Energy-Storage.news last week as the COP26 climate talks rolled on in its home country that a memorandum of understanding (MoU) has been signed with distribution company Thumos, aimed at selling up to £50 million (US$67.43 million) of Sunamp systems in China over the next five years.

The pair's initial undertaking will be the deployment of 400 Sunamp heat batteries to high-end apartments in Shanghai as well as across a pipeline of projects throughout China.

"Thumos is excited to sign the strategic cooperation agreement with Sunamp, which also signifies the beginning of in-depth cooperation between China and UK in the commercialisation of PCM thermal energy storage," Thumos founder and CEO Chengyong Kang said.

"Thumos is committed to promote the sustainable development of renewable energy and environment in a digital way, to utilise the off-peak power and waste heat through residential and commercial projects, helping to achieve China's carbon neutral goal and promoting the green and low-carbon transformation of global energy."

It's not Sunamp's first foray into China, it has been working on market-seeding activities in the country for a while, as seen in this 2016 Guest Blog from Sunamp's international business development director Maurizio Zaglio and a 2018 agreement was signed with major solar PV company Trina Solar to investigate the use of Sunamp's technology in an integrated heating solution using heat pumps.

"Ahead of the United Nations climate summit, China's State Council declared the share of non-fossil fuels in the country's energy consumption will increase to 25% by 2030 — that's nine percentage points higher than it was in 2020," Sunamp CEO Andrew Bissell said.

"Our products have a role to play in that transition by increasing the efficiency of renewables and we are excited by the opportunity to collaborate with Thumos to significantly expand our sales in China."

Bissell added that Sunamp and Thumos are working to develop and commercialise other solutions for low carbon heating and cooling, such as electric water heaters and air-source heat pump water heaters based on the Plentigrade PCM.

Sunamp recently also opened a factory in South Korea and is active in 17 countries.